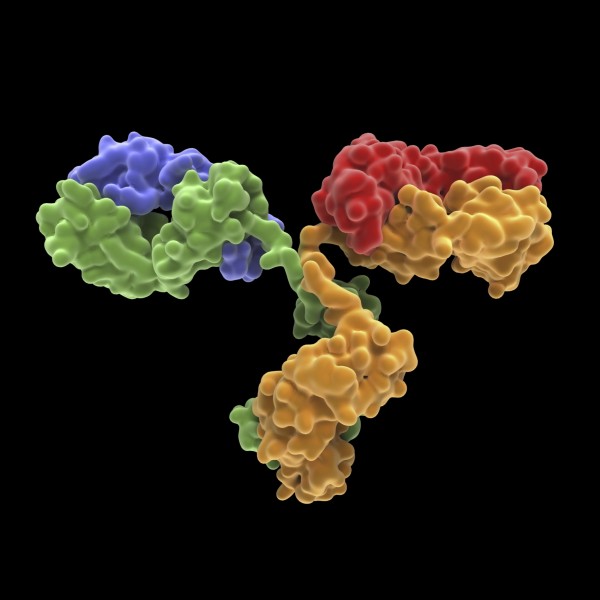 | | |
| --- | --- |
| Antigen: | IgG1 Isotype Control |
| Application: | Flow cytometry (Isotype control) |
| Clonality: | monoclonal |
| Clone: | PPV-06 |
| Field of Interest: | Isotype controls |
| Format/Fluorochrome: | Purified |
| Isotype: | IgG1 |
| Regulatory Status: | RUO |
| Source Species: | Mouse |
| Product number: | AS224818 |
For Research Use Only
Concentration Unit mg/mL Concentration 1 Quantity 0.1 mg Volume 0.1 mL...
more
CyFlow™ IgG1 Purified
| | |
| --- | --- |
| Concentration Unit | mg/mL |
| Concentration | 1 |
| Quantity | 0.1 mg |
| Volume | 0.1 mL |
| Immunogen | Not available |
| Background Information | The specificity of staining by monoclonal antibodies to target antigens should be verified by establishing the amount of non-specific antibody binding. Especially at higher concentration (more than 15 μg/ml) the antibody staining usually has consignable background. To this end a non-reactive immunoglobulin of the same isotype is included as a negative control for each specific monoclonal antibody used in a particular immunoassay. The monoclonal antibody PPV-06, generated against an undefined antigen, does not react specifically with rat and human samples, and hence all the background that could be observed when working with this antibody would be a result of general nonspecific interactions between an mouse IgG1 molecule and the respective sample under the particular conditions. This shall help the customer to set up the experimental conditions so that the nonspecific binding of any antibody is abolished. |
| Usage | The reagent is designed as an isotype control for Flow Cytometry analysis. To establish the amount of non-specific antibody binding, match the concentration of the correct isotype to the recommended working concentration of the antigen-specific antibody. If the background signal of the isotype control is too high (usually when working antibody concentrations are above 10·µg/ml of incubation mixture), change the experimental conditions to reduce the background. |
| Storage Buffer | The reagent is provided in phosphate buffered saline (PBS) solution, pH ≈7.4, containing 0.09% (w/v) sodium azide. |
| Storage | Avoid prolonged exposure to light. Store in the dark at 2-8°C. Do not freeze. |
| Stability | Do not use after expiration date stamped on vial label. |
Specific References
| Beyersdorf N, Ding X, Blank G, Dennehy KM, Kerkau T, Hünig T: Protection from graft-versus-host disease with a novel B7 binding site–specific mouse anti–mouse CD28 monoclonal antibody. Blood. 2008·Nov·15; 112(10):4328-36. <·PMID:·18780833·> | Handke W, Oelschlegel R, Franke R, Krüger DH, Rang A: Hantaan virus triggers TLR3-dependent innate immune responses. J·Immunol. 2009·Mar·1; 182(5):2849-58. <·PMID:·19234180·> | Michaelis K, Wallbrecht K, Kerstan A, Beyersdorf N, Williams C, Kerkau T, Wang XJ, Hünig T, Schön MP: Modulating T cell functions does not alleviate chronic inflammatory skin lesions in K5.TGF beta 1 transgenic mice.. Exp·Dermatol. 2010·May; 19(5):406-15. <·PMID:·20100197·> | Balogh A, Adori M, Török K, Matko J, László G: A closer look into the GL7 antigen: its spatio-temporally selective differential expression and localization in lymphoid cells and organs in human. Immunol·Lett. 2010·May·4; 130(1-2):89-96. <·PMID:·20005896·> | Beyersdorf N, Werner S, Wolf N, Herrmann T, Kerkau T: Characterization of a new mouse model for peripheral T cell lymphoma in humans. PLoS·One. 2011; 6(12):e28546. <·PMID:·22163033·> | Correia MP, Costa AV, Uhrberg M, Cardoso EM, Arosa FA: IL-15 induces CD8+ T cells to acquire functional NK receptors capable of modulating cytotoxicity and cytokine secretion. Immunobiology. 2011·May; 216(5):604-12. <·PMID:·20956026·> | Larsen MH, Bzorek M, Pass MB, Larsen LG, Nielsen MW, Svendsen SG, Lindhard A, Hviid TV: Human leukocyte antigen‑G in the male reproductive system and in seminal plasma. Mol·Hum·Reprod. 2011·Dec; 17(12):727‑38. <·PMID:·21813635·> | Almeida CR, Vasconcelos DP, Gonçalves RM, Barbosa MA: Enhanced mesenchymal stromal cell recruitment via natural killer cells by incorporation of inflammatory signals in biomaterials. J·R·Soc·Interface. 2012·Feb·7; 9(67):261-71. <·PMID:·21752807·> | Svendsen SG, Hantash BM, Zhao L, Faber C, Bzorek M, Nissen MH, Hviid TV: The expression and functional activity of membrane-bound human leukocyte antigen-G1 are influenced by the 3′-untranslated region. Hum·Immunol. 2013·Jul; 74(7):818-27. <·PMID:·23583363·> | Szittner Z, Papp K, Sándor N, Bajtay Z, Prechl J: Application of fluorescent monocytes for probing immune complexes on antigen microarrays. PLoS·One. 2013·Sep·5; 8(9):e72401. <·PMID:·24039758·> | van Bergenhenegouwen J, Kraneveld AD, Rutten L, Kettelarij N, Garssen J, Vos AP: Extracellular vesicles modulate host-microbe responses by altering TLR2 activity and phagocytosis. PLoS·One. 2014·Feb·20; 9(2):e89121. <·PMID:·24586537·> | Kruse V, Hamann C, Monecke S, Cyganek L, Elsner L, Hübscher D, Walter L, Streckfuss-Bömeke K, Guan K, Dressel R: Human Induced Pluripotent Stem Cells Are Targets for Allogeneic and Autologous Natural Killer (NK) Cells and Killing Is Partly Mediated by the Activating NK Receptor DNAM-1.. PLoS·One. 2015·May·7; 10(5):e0125544. <·PMID:·25950680·> | Mehling M, Burgener AV, Brinkmann V, Bantug GR, Dimeloe S, Hoenger G, Kappos L, Hess C: Tissue Distribution Dynamics of Human NK Cells Inferred from Peripheral Blood Depletion Kinetics after Sphingosine-1-Phosphate Receptor Blockade.. Scand·J·Immunol. 2015·Nov; 82(5):460-6. <·PMID:·26285786·> | Escate R, Padro T, Badimon L: LDL accelerates monocyte to macrophage differentiation: Effects on adhesion and anoikis. Atherosclerosis. 2016·Mar; 246:177-86. <·PMID:·26800307·> | Schmidt T, Willenborg S, Hünig T, Deeg CA, Sonderstrup G, Hertl M, Eming R: Induction of T regulatory cells by the superagonistic anti-CD28 antibody D665 leads to decreased pathogenic IgG autoantibodies against desmoglein 3 in a HLA-transgenic mouse model of pemphigus vulgaris.. Exp·Dermatol. 2016·Apr; 25(4):293-8. <·PMID:·26661498·> | Machacek C, Supper V, Leksa V, Mitulovic G, Spittler A, Drbal K, Suchanek M, Ohradanova‐Repic A, Stockinger H: Folate Receptor β Regulates Integrin CD11b/CD18 Adhesion of a Macrophage Subset to Collagen. JImmunol. 2016 Sep 15; 197(6):2229‐38. <·PMID:·27534550·>
Article successfully added.